Awards and Certifications
As a leader in wheel manufacturing, we are proud to design, produce, and distribute the highest quality aluminum wheel in the industry. We are continually recognized by the auto industry for our quality, customer service, and delivery.
Certifications:
---
IATF 16949
ISO/IEC 17025 Laboratory
ISO/TS 16949
ISO 14001
Brazil Inmetro
Recent Achievements:
---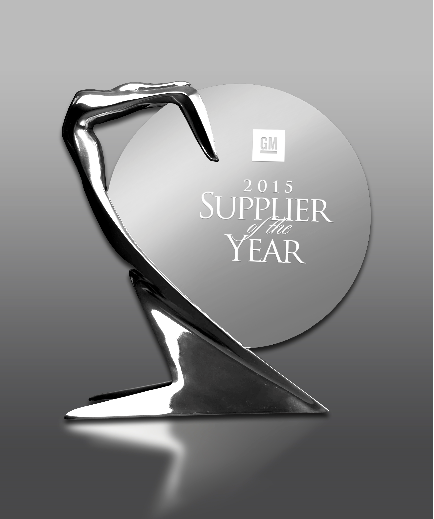 Superior Industries was named 2015 GM Supplier of the Year by General Motors during its 24th annual Supplier of the Year awards ceremony held on Thursday, March 10, 2016 at Cobo Center in Detroit, MI.
2015 Nissan Regional Supplier Quality Finalist
2015 Toyota Quality Performance Achievement
2015 Mazda Supplier of Excellence Award
2015 GM Supplier of the Year Award
2014 GM Supplier Quality Excellence Award
2014 On-Time Shipping Recognition Awards for Customer Share/Aftersales (Platinum, Gold, & Silver)
2014 Nissan Regional Supplier Quality Finalist
2013 GM Customer Care and Aftersales- Certificate of Excellence Platinum
2012 Chrysler Outstanding Quality Recognition
2011 Chrysler Quality "Certificate of Achievement"
2009 Toyota "Value Improvement" Recognition Award
2007 Ford Gold World Excellence (Wheels) Award
2007 Nissan NA "Zero Defects" & "Quality Master Award"
Superior Industries strives to create and sustain an enterprise that delivers a high level of value and opportunity to our customers, employees, shareholders, and our communities through leadership, performance, and teamwork at all levels of the organization.
Supplying the Industry: