Water and wastewater treatment
Water and wastewater treatment
To protect flora and fauna, we regularly monitor our sludge traps and take other actions to help ensure that no hazardous substances are accidentally released into the environment. In 2019, our European operations started a new environmental water treatment project for the processing and disposal of liquid effluents in which wastewater from production processes are carried off to a treatment process to reduce environmental impacts. To further avoid environmental damage, Superior works on projects to reduce our dependence on water and its pretreatment.
Environmental Innovation Program - Achievements
The German Federal Ministry for the Environment, Nature Conservation, Building and Nuclear Safety funds industrial-scale pilot projects in key environmental sectors such as climate protection and resource efficiency. These projects demonstrate how innovative technologies can be implemented to help reduce and prevent harm to the environment.
In 2020, our German manufacturing facility received funding under the Federal Ministry's Environmental Innovation Program for a project to reduce CO2 emissions and use of solvents. This program focuses on projects that are well-suited for demonstration purposes and hence for replication. The projects also lead to further refinement both of the technologies involved and of the environmental regulatory framework.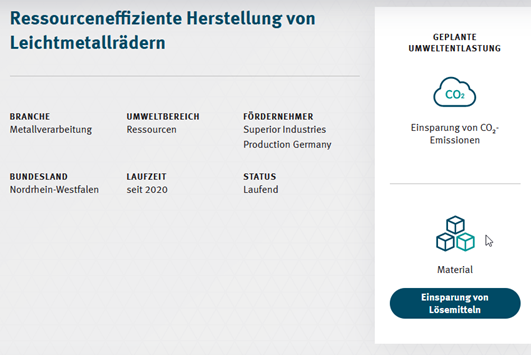 LINK to the publication of the resources CIP at SPG.